When a new hobby or lifestyle shift starts to feel the least bit good, I pick up the pace. The day I managed 15,000 steps, according to my Fitbit, I knew it'd be a cinch to take 15,000 steps every day for the rest of my life. Until a week later when I rocketed to 25,000 steps. The new norm! I jogged around my living room at 10 p.m. in celebration of my bright, bright future.
But then the battery on my Fitbit died, and I only feebly hunted for the charger. Two years ago, my season of vegetarianism screeched to a halt when someone offered me a muffuletta piled high with deli meats, and I couldn't be rude. I've bought and thrown away more size-four pants than I can count when fad diets fell apart.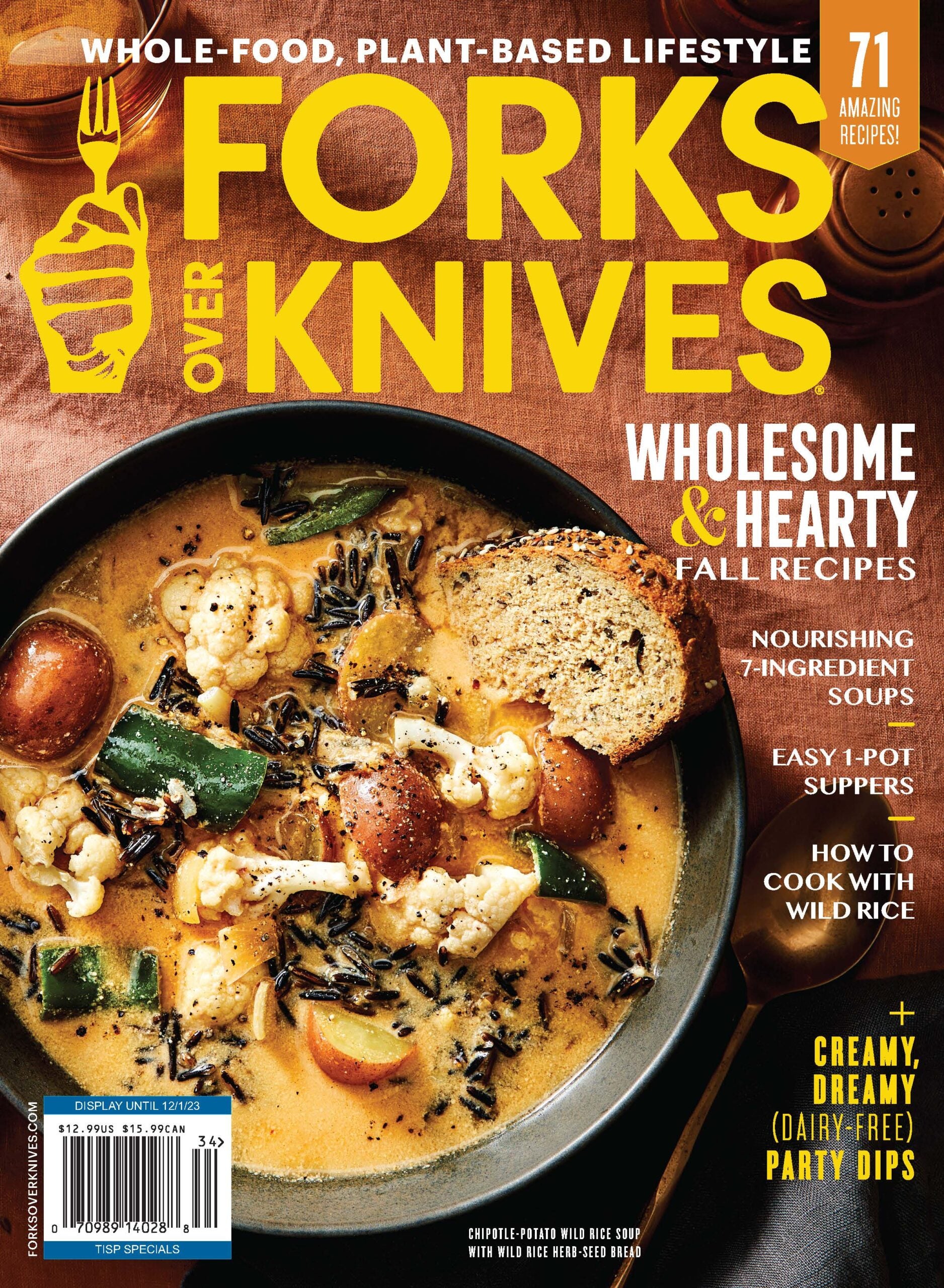 The Fall 2023
Magazine Is Here!
Our gorgeous "bookazine" features expert tips, inspiration, & comforting recipes for fall.
I've learned a hard lesson in rushing headlong into new habits, but FOK'S Fresh Start Challenge has felt different—maybe because I didn't radically upend what I was already doing at home: trying to craft decent meals on a budget while not dying of boredom (or clogged arteries). I've not been perfect in this diet, but when I've managed to eat whole-food, plant-based across three meals or four days, I've felt a lightness in my body that was not the dizzying release of endorphins but something more serene. When I stepped off the carousel once or twice, I did not feel guilty and flee in shame but instead planned how my next meal would correct course.
Forks Meal Planner has helped immensely, letting me map out a week and buy all the groceries in one trip for treats like African Peanut Stew; Refried Beans and Avocado Toast; and Beet, Orange, and Quinoa Salad—simple recipes that make enough for several meals, giving me fewer opportunities to stray. I picked up techniques and substitutions that I can apply to other meals—recently, in a cauliflower soup, I browned the cauliflower florets and onions without oil, then blitzed in cashews using my immersion blender for a creamy soup with no dairy at all. Almond milk has made a perfectly nutty companion to my cereal. I've learned to glory in beans and lentils, which are hardly as humble as they initially look.
The side challenge I set for myself during Fresh Start was to delight my daughter, too. If you've ever had a toddler in your life, you know the peril of pinning your happiness to how they might react to any given situation. My wish that she ooh and ahh over every colorful vegan dish I created did not come to pass. She spit out sweet potatoes. She hurled roasted carrots away from her as if they were cursed. I'd all but given up, until one night when I sat down to dinner with my husband (who had to admit that most of what I made was delicious and not an affront to omnivores everywhere). We imagined she'd demand something sad and beige yet again, but then she spotted the Moroccan Lentil Stew. Or perhaps, she simply smelled that beautiful trinity of cinnamon, cumin, and coriander that sends cooks into a daze as a pot simmers. "A bite?" she asked, sidling up to her father. He gave her one. "A bite?!" she asked again. Then she stopped asking. "A BITE!" Mae relished each spoonful of the flavorful stew, sparing some for her dad to enjoy as lunch the next day. I, meanwhile, savored the moment, the joy of seeing my hard work and good intentions radiate out into the world. It's a feeling I plan to chase more often—perhaps with more lentils.
Fresh Start 2019 has come to a close, but you can begin your whole-food, plant-based journey anytime. Looking for guidance? Forks Meal Planner makes healthful eating simple, affordable, and delicious. Try a week free, no credit card required.