Hollywood actress Kristen Bell and actor husband Dax Shepard have adopted a vegan diet after watching Forks Over Knives, according to the cover story in the latest issue of Women's Health magazine. According to the magazine, "[Forks Over Knives] was the catalyst for turning Kristen (a vegetarian since age 11) and Dax (a carnivore) into vegans this past January." The magazine quotes Kristen as saying, "It's more about the health benefits than the ethics. But it's compounded by the fact that I love animals and feel better not eating them."
Kristen issued a statement through her publicist that said, "Forks Over Knives outlines an extremely compelling approach to the prevention of heart disease and cancer."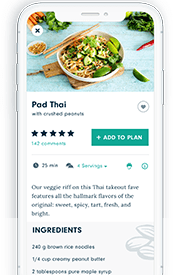 Try Our Award-Winning Meal Planner For Free!
Healthy eating has never been so easy.
Kristen Bell stars in the T.V. series House of Lies, and has appeared in the T.V. Series Veronica Mars and the film Forgetting Sarah Marshall. Dax Shepard stars in Parenthood, and appeared in the films When in Rome and Idiocracy.