In the nutrition world, Dr. Michael Greger is best-known for reviewing dozens of scientific studies every day and publishing daily videos about the latest in nutrition research. It's a huge job, and Greger has taken it upon himself to be the one to do it. He also travels extensively around the world lecturing on nutrition; he has spoken at the Conference on World Affairs, Centers for Disease Control and Prevention, the National Institutes of Health, and at countless other symposia.
NutritionFacts.org, Greger's science-based website, provides the latest in nutrition research for free as a public service. We recently talked to him about how his work habits, what he eats, and how he manages to accomplish so much in so little time.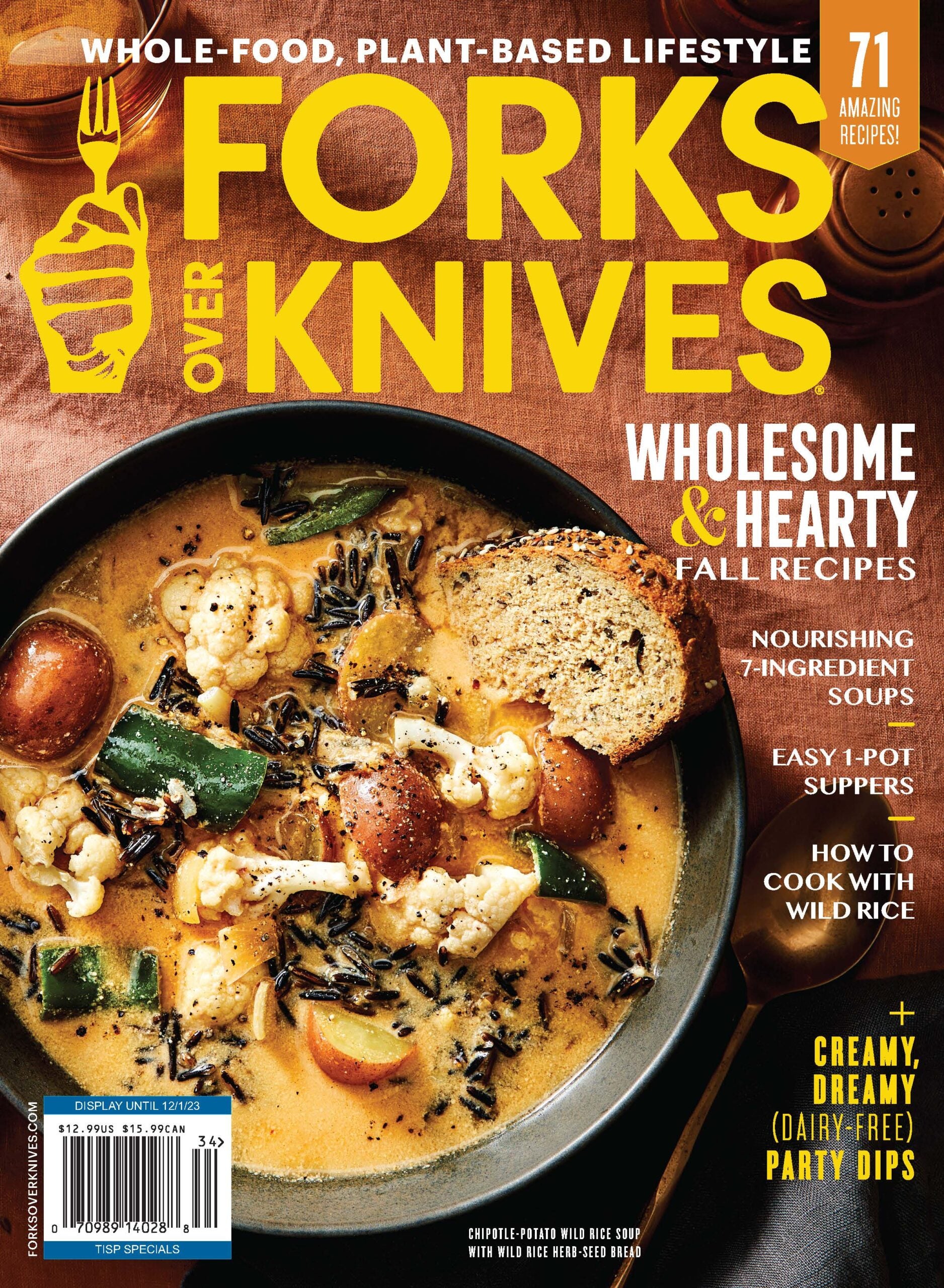 The Fall 2023
Magazine Is Here!
Our gorgeous "bookazine" features expert tips, inspiration, & comforting recipes for fall.
Why did you start NutritionFacts.org?
There's so much in the nutrition world that is commercialized and driven by business interests. I wanted to go to the original sources and present people with the best, most objective nutrition research. NutritionFacts is nonprofit and noncommercial.
When I was a child, my grandmother was told she didn't have long to live. She had undergone several bypass surgeries and was confined to a wheelchair. She reversed her advanced heart disease with a plant-based diet and lifestyle changes (based on the work of Nathan Pritikin), and went on to live 31 more years to the age of 96. She also enjoyed great health—she was out of the wheelchair in just three weeks of switching her diet and began walking ten miles a day. It was just amazing and wonderful for us kids to be able to play with her again. Her health transformation was what made me want to be a doctor.
So I was familiar with the power of plant-based nutrition. Years later, Dr. Dean Ornish published his pioneering Lifestyle Heart Trial in 1990, which showed that heart disease could be stopped and even reversed without drugs or surgery. It was scientific proof of what I had witnessed with my own eyes. I also started eating a whole-food, plant-based diet at this time.
When I was in medical school, I was disappointed that we didn't learn anything about using diet and lifestyle changes to treat chronic diseases. I couldn't believe such a large body of evidence was being ignored by the medical community and that millions of people were dying prematurely for no reason. That's why I've made it my life's mission to get this life-saving information out to the public, who will never find or hear about the research in the medical journals.
I've heard that you review hundreds of scholarly articles per week. Is that a typo? How is it possible for you to read it all and transform the scholarly articles into your watchable, easy-to-understand videos? What's the process for getting all of this done?
It takes a team. We have 19 researchers on the staff and about 80 active volunteers. Our team scans through every issue of every English-language nutrition journal. Every week, an army of volunteers downloads and categorizes nearly 2,000 papers on the subjects of nutrition and disease for the research team to analyze.
For process, there's the research phase and the writing phase. During the research phase, volunteers download the studies and put them in topical folders. When I'm in this phase, I skim through the studies and pull out the groundbreaking studies (or collections of studies). I've always been a fast reader and am able to sort through dense material and pick out important points. If I see links and/or some kind of narrative arc [to the important points], I will later write a video or series of videos around the topic.
During the writing phase, I do close reads of the material, write the scripts, and give some direction to the video team. Our video team puts together the video assets. Every nine weeks, I read through the scripts and click through the presentations to create our huge library of NutritionFacts videos.
In the beginning, I was doing it all myself. If you look at the videos from 2011, they are pitiful. Now, thanks to the generous support of so many people, I have the luxury to go deep. We're like the Bernie Sanders of the nutrition movement. Our average donation is under $30, but we reach so many millions of people that even if one in a thousand people donates we are able to survive and thrive. I don't make any money from the site or the videos, but we do have to pay the people that work here and pay for servers and image and research download costs.
We're trying to replicate the Wikipedia model where the information is totally free, but people donate because they feel they've benefited from it and want to support it to help others.
It's obviously a ton of work and you seem to have a rigorous travel schedule. How do you stay healthy?
I practice what I preach and have been eating a whole-food, plant-based diet for about 25 years.
I also have a treadmill desk. I started with a standing desk when I read all the research about the dangers of sitting all day. Then I figured I could also move a little bit. I walk really slowly, about two miles an hour, but I walk about 17 miles a day on average when I'm not sitting on my butt in some plane somewhere.
What are the most popular topics on NutritionFacts?
Every year, I do a "best of" summary and a Top 10 list of the "most popular" videos. I don't try to appeal to the masses or do trends, and I am often surprised at what people find interesting. People respond to the Paleo videos, which is no surprise. But there are surprises like the public interest in vinegar. Other popular topics include breast cancer, Splenda, and controversial topics like gluten.
You've read more medical literature on nutrition than probably anyone on the planet. What do you want people to eat?
I want everyone to eat a diet centered around whole plant foods. I also have a "daily dozen" list of all the things I try to fit into my daily routine. It's available as a free app on iPhone and Android ("Dr. Greger's Daily Dozen). I go into [what to eat] in detail in How Not to Die. It includes beans, berries and other fruit, lots of veggies including leafy greens, whole grains, and flaxseeds. It also includes exercise and water.
When people are starting the transition to a whole-food, plant-based diet, what is the healthiest first step they can take?
For first steps that will make a big impact on your health, I recommend removing trans fats (i.e., donuts, Crisco) and processed meats and adding dark, leafy greens and beans to your diet.
Dr. Greger encourages everyone to go to your local library and grab a copy of How Not to Die: Discover the Foods Scientifically Proven to Prevent and Reverse Disease. All proceeds he receives from book sales go to charity.