Mondays just became healthier for 1.1 million children in New York City. Mayor Bill de Blasio, Schools Chancellor Richard A. Carranza, and Brooklyn Borough President Eric Adams announced at a press conference on Monday that all 1,800 public schools in the city will offer Meatless Mondays.
Beginning with the 2019-2020 school year, all New York City public school cafeterias will provide their students with meat-free breakfasts and lunches, free of charge.
Get 20% Off!
Get 20% Off!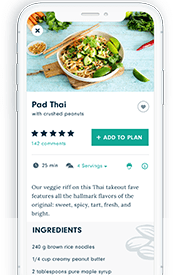 MEMORIAL DAY SALE!
Get our weekly plant-based meal plans for as low as $6.67/month!
New York City's Meatless Mondays program was initially tested at 15 public schools in Brooklyn in spring of 2018. Following the pilot program's success, the city expanded Meatless Mondays to all public schools in Brooklyn, and now throughout New York City's five boroughs. Positive feedback from students and participation metrics from the test program played an important role in the decision to take the cost-neutral initiative citywide.
"We want [our kids] to be as healthy as they can be," de Blasio said. "We want them to learn as well as they can learn. And Meatless Mondays will help create more balance in their lives."  
Brooklyn Borough President Eric Adams is a vocal advocate of a healthful plant-based diet and has cited the documentary Forks Over Knives as a helpful resource. He said in a statement, "I stood beside Mayor de Blasio and then-Chancellor Fariña in 2017 to announce that 15 schools in Brooklyn were undertaking Meatless Mondays. In less than 18 months, we can announce that Meatless Mondays has spread to more than 1 million children at every school across the city, putting us on the path to make our kids, communities, and planet healthier."
According to Chancellor Carranza, New York City students from low-income families often rely on free school meals as their primary source of daily sustenance. Those students, and all others, will now have access to healthier meals, thanks to the citywide Meatless Mondays policy.
Ready to get started? Check out Forks Meal Planner, FOK's easy weekly meal-planning tool to keep you on a healthy plant-based path.