PS244Q, a public school in Flushing, Queens (New York), was the first public non-charter school in America to offer students an all-vegetarian menu. The all-vegetarian plan (which includes breakfast and lunch) was launched in 2013.
The school's administration was able to implement an all-vegetarian menu with the support of the Coalition for Healthy School Food. This year, the Coalition also helped a second school, the Peck Slip School in lower Manhattan (New York), become a meat-free school.
Getting Meat Off the Menu
We recently spoke with Amie Hamlin, the executive director of the Coalition, about its work with school food. She gave some great insights and tips into how parents can have an impact on the food their children eat in the school cafeteria every day.
How did the Coalition get started?
In 2004, I helped write a legislative resolution for New York State that passed unanimously. The resolution stated that schools should have a healthy vegan option every day in public schools, and that nutrition education would include information about plant-based and healthy multicultural eating patterns.
Resolutions are voted on just like laws in New York State, but they are just recommendations. So they serve an educational purpose, but they don't require people to do anything. We decided that we needed to create a non-profit organization that would actually help implement the recommendations in schools.
So we created the New York Coalition for Healthy School Lunches, which brings plant-based foods and nutrition education to schools. We were the first statewide non-profit in the country to be devoted solely to school food, and now we've expanded beyond state borders.
The Coalition has done amazing work in such a short period of time. How hard was it to launch the country's first and second all-vegetarian cafeterias?
We have been bringing plant-based entrées to New York City schools (the largest school food program in the country), running nutrition education events and programs, and helped to implement healthy snack programs in schools for almost a decade.
Administrators at PS 244Q knew about us from our work at a school in Harlem where they used to teach, and they asked us to help them put plant-based meals on their menu. It started out a few days a week. When the federal regulations were about to change, we asked the NYC Office of School Food if the entire menu could be vegetarian, and we got the approval.
At the Peck Slip School, the principal, Maggie Siena, got the idea when she heard about the success of the vegetarian food program at PS 244Q. We provided implementation assistance once the principal got the Office of SchoolFood's approval for an all-vegetarian menu.
Did you face any barriers to going vegetarian? From the staff or the parents?
It was a real community effort and the kids actually enjoy the food, which helps. We worked closely with the New York City Office of SchoolFood, which is on board with our efforts, and the principals, administrators, staff, food service directors, cooks, and parents at both schools. Everyone has been wonderful to work with, and the food really looks and tastes great.
At both schools, it's a real community effort, and it takes buy-in from all involved to make it successful. We couldn't do it without the amazing dedication of everyone involved, including the students who are very open to learning more about healthy eating. In fact, they have gone home and taught their parents, which has resulted in changes to how they eat at home. Students are allowed to bring meat from home, but overall the parents at both schools were totally on board and there were no big concerns. I think everyone realizes that well-fed students perform better in school, have less behavioral problems, and get sick less often.
Students are thriving not only physically, but academically as well! Is that ever part of the selling point when you talk to school administrators?
At PS 244Q, BMIs have gone down, and the kids get sick less often. The school's standardized test scores were #11 in the state. All the other schools with higher test scores have no English language learners, and they all have gifted programs. PS244Q does not have a gifted program and does have English language learners, so it was an incredible achievement. I am so proud of the kids and the school. Though there is no cause and effect proof, we like to think it is a result of the healthier menu.
We know that healthy food benefits physical health and the immune system, and we know that good nutrition also helps improve focus, attendance, and learning. We like to talk about all the reasons for switching to a vegetarian menu: better health, better grades, and better behavior!
What's next for you guys? Are more schools interested in going vegetarian?
There are a few more schools interested in going all vegetarian, and we just had a principal's meeting for schools interested in doing so. But we also work with many schools in getting plant-based options on their lunch menus by encouraging them to adopt an "Alternative" menu, which is less processed and has some plant-based entrees. As a result of our programs, over 17,000 students now have the option of plant-based entrees at least twice per week, if not more.
There are so many opportunities to grow and so many administrators who are interested. The only thing we are lacking is people on the ground and the funds needed to create more change. If we could, we'd do a lot more education of parents, teachers, and food service personnel.
Do you have any tips for parents who want to bring more plant-based options to their children's schools?
Yes! We want people to take initiative and do this at the local level. I'd worked in the nonprofit world, but I first got interested in school food as a parent. I walked into my stepson's school (he's now an adult) and volunteered to head the PTA Nutrition Committee with a friend.
The most important thing, and I can't stress this enough, is that the easiest way to make something happen is to make it easy for food service directors. Don't give them extra work. Make things easy for them.
1. Be helpful, not critical.
To make this happen, you are going to have to speak to the school's food service director. When you approach him or her, it's really important that you are not critical. Instead, be positive about what they do and your interest in adding plant-based options.
Try to understand the system that food service directors work under. They have a lot of regulations and budgets to consider.
2. Use the resources on our website.
To make things easier for the food service director, show him or her the recipes on our site. They meet budget guidelines and they are scaled up for school-sized yields. They also meet USDA regulations for school lunches.
If your school doesn't cook its own food (which is common), then do some research on healthy veggie burgers, falafel, or other manufactured foods that they can order. Many schools are very receptive of this if it's in budget.
4. Let the food service director taste the food.
If your school does prepare its own food, then make some of the recipes and bring them in for the food service director to try. It's a nice gesture, helps him or her understand what you're talking about, and can help smooth the way.
If you want to get involved with the Coalition for Healthy School Food, visit us at healthyschoolfood.org.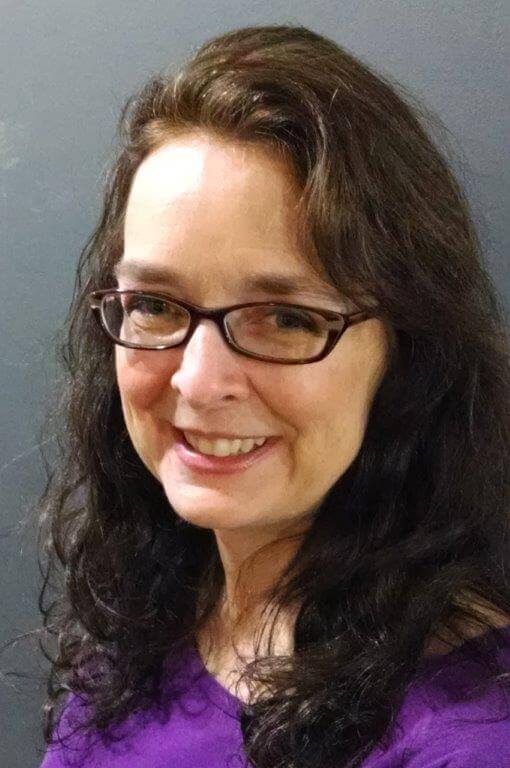 Amie Hamlin, executive director of the Coalition for Healthy School Food.
Related News