In an interview with Mother Nature Network, Carrie Ann Inaba said she and her fiancé, Jesse Sloan, recently became vegetarians. Carrie said, "We saw that amazing documentary 'Forks Over Knives' and that cleared everything up for us. Every Sunday we're going to the farmers market now, getting our fresh fruits and veggies. It's just two weeks, but we feel much better. I love animals. I don't want to eat them."
Carrie Inaba, is one of three judges on the hit TV show Dancing with the Stars.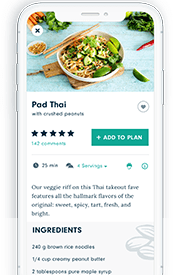 Try Our Award-Winning Meal Planner For Free!
Healthy eating has never been so easy.