Gary Walker suffered from sleep apnea along with other chronic health issues. Tired of taking medications, he and his wife decided to try improving their health by changing their way of eating. They didn't anticipate how swift and significant the improvements would be.
Two years ago you could not have convinced me that changing to a whole-food, plant-based diet could change my life and my wife's life so drastically, but it has.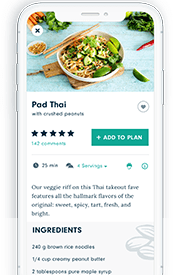 Try Our Award-Winning Meal Planner For Free!
Healthy eating has never been so easy.
I had sleep apnea, chronic pain, acid reflux, high cholesterol, and borderline high blood pressure. I was taking six Lortab and two Flexeril a day for pain from a back injury.
During one of my trips to the pain management doctor, my wife, Vicky, said, "Enough is enough: We are going to do something about our health."
We started counting calories and limiting our carbs. Then one day we watched the Forks Over Knives film, and that changed everything. We decided to stop counting calories and instead switch to a whole-food, plant-based way of eating focused on nonprocessed foods.
After five months, we were down a combined 80 pounds and off all prescription medications. My sleep apnea is gone! Our lives have changed in so many ways, and so has our outlook. It's never too late to make a change. I didn't start until I was 50 years old; my wife was 47. If we can do it, you can!
Ready to get started? Check out Forks Meal Planner, FOK's easy weekly meal-planning tool to keep you on a healthy plant-based path.