In September 2013, six months shy of my 50th birthday, I was diagnosed with prostate cancer. Two urologists, including a surgeon from one of the leading cancer centers in the world (my "second opinion" doctor), recommended surgery. Instead, I decided to adopt a comprehensive, doctor-supervised program of lifestyle interventions—diet, exercise, supplements, and stress management—that have been known to slow progression of the disease and which I hoped would buy me some time until less invasive treatment options became available.
I became a health warrior.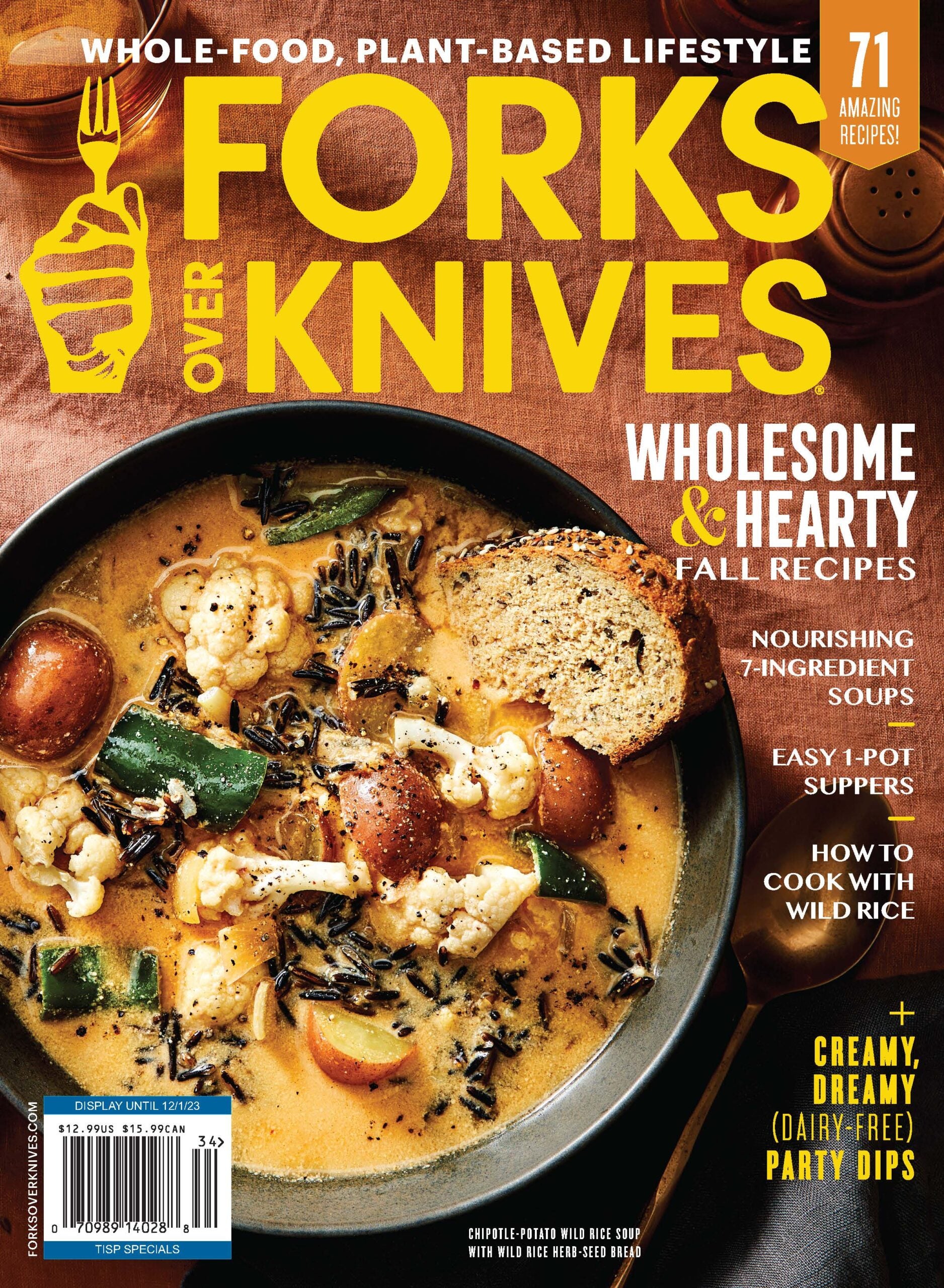 The Fall 2023
Magazine Is Here!
Our gorgeous "bookazine" features expert tips, inspiration, & comforting recipes for fall.
I adopted a whole food, plant-based diet optimized for prostate health.
I dialed up my exercise routine to 11, in frequency, duration, and intensity.
I supplemented my diet with healing herbs, botanicals, and vitamins to reduce inflammation and support my innate immune response.
I developed a mindfulness meditation practice to manage the stress (which also causes inflammation) of knowing that I had cancer growing inside my body.
At around the same time, a friend recommended that I watch the Forks Over Knives documentary. What I learned from FOK convinced me to double down on my lifestyle changes, which I knew would benefit me in the long term, regardless of my prostate cancer outcome.
These lifestyle changes were so effective that within a few months I lost over 30 pounds and the curious skin tags that had been growing on my lower eyelids for the past five years disappeared. Even more importantly, my PSA (prostate specific antigen) levels stabilized, suggesting that my body was successfully wresting my cancer to stalemate.
Nearly two years to the day after my initial diagnosis I went back in for follow-up tests (another MRI and biopsy) and was shocked to learn that my cancer was in remission. I had effectively hacked my body chemistry, making my body's internal terrain inhospitable to cancer growth, using entirely natural interventions.
My journey continues. I have realized that the path to physical, emotional, and spiritual health does not have a fixed destination. I will never be finished with the job of caring for myself, so long as I have breath in my body and a mind capable of choice. There will be many more obstacles and opportunities, and I want to ensure that I'm ready for them—sound in mind, body, and spirit—when they drop.
My journey to wellness changed my life. Through that lens, I look back on my diagnosis in September 2013 as a blessing; it motivated me to make changes that I probably would not have made, changes which helped me to recover my physical, emotional, and spiritual health.