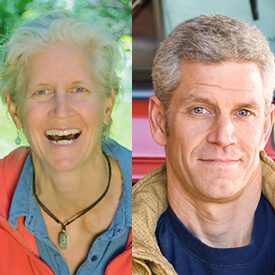 Rip Esselstyn and Jane Esselstyn, RN
Rip and Jane Esselstyn, the children of Caldwell Esselstyn, MD, are a brother-sister team dedicated to educating others about the benefits of a plant-based diet. Rip was a firefighter in the Austin Fire Department when he discovered dangerously high cholesterol levels among his firefighter comrades and led a stationwide dietary revolution that resulted in markedly better health, which he detailed in his bestselling book,
The Engine 2 Diet
. Jane is a wellness instructor and a plant-strong presenter and cook. She co-authored
The Prevent & Reverse Heart Disease Cookbook
with her mother, Ann, and developed recipes for
My Beef with Meat
. Rip and Jane brought together their years of experience to co-author
The Engine 2 Cookbook
. Find
Rip
and
Jane
on Instagram.
All Contributions from Rip Esselstyn and Jane Esselstyn, RN (1)
Full-On Taco Bar

Celebrate Taco Tuesday by building your own taco bar with this quick and easy recipe. The filling—a combination of lentils, refried beans,…

See article
Master The Art Of Plant-based Cooking.
The Forks Over Knives online cooking course helps you learn new techniques, flavors, and styles for cooking delicious plant-based, oil-free meals at home.
Join our mailing list
Get free recipes and the latest info on living a happy, healthy plant-based lifestyle.