In a groundbreaking initiative, NYC Health + Hospitals/Bellevue will offer New York City residents personalized support in making the potentially life-saving transition to a whole-food plant-based diet. With an initial $400,000 in funding, the Plant-Based Lifestyle Medicine Program will launch this fall at Bellevue Hospital in Manhattan, serving patients from all five New York City boroughs.
An expert staff including doctors, nurses, dietitians, and lifestyle coaches will meet individually with patients, addressing their needs, concerns, questions, and personal challenges in transitioning to a healthier diet. Included in the conversations will be details about how changing to a WFPB diet could impact chronic conditions such as heart disease, obesity, high cholesterol, and high blood pressure. In addition to initial visits, the program includes regular follow-up appointments that family members are encouraged to attend.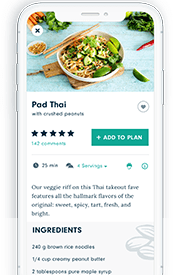 Try Our Award-Winning Meal Planner For Free!
Healthy eating has never been so easy.
The initiative was born out of a meeting that included Brooklyn Borough President Eric Adams; Deputy Mayor Herminia Palacio of Health and Human Services; NYC Health + Hospitals leaders, including Dr. Michelle McMacken, director of NYC Health + Hospitals/Bellevue Adult Weight Management Program; and other plant-based nutrition experts.
"This program will assist patients who are living with chronic health conditions, giving them the guidance and support they need to transition to a healthy lifestyle," says McMacken, who will direct the pilot program at Bellevue, the oldest public hospital in the United States. "Healthy lifestyle habits have the potential to prevent, treat, and sometimes even reverse conditions such as high cholesterol, high blood pressure, type 2 diabetes, and heart disease."
Brooklyn Borough President Adams recovered his own health by following a WFPB diet, citing Forks Over Knives as a source of support. He is now focused on introducing the benefits of eating healthfully to all of New York City. "This clinic will champion a new paradigm for health care in New York and beyond, one in which patients gain freedom not only from debilitating, life-threatening chronic diseases but also from the harsh side effects and reduced quality of life associated with traditional, less effective treatments," he says. "The power of plant-based diets allowed me to reverse my type 2 diabetes, and I'm elated that through this clinic, it will do the same—and more—for countless New Yorkers."
NYC Councilman Mark Levine, chair of the Committee on Health, commented, "Science has now settled the question: a plant-based diet yields tangible health benefits across a range of indicators." He added, "This new center at Bellevue makes a critical addition to New York City's health care landscape and will help patients in need adapt their diet for maximum health benefit. This is cutting-edge medicine at its best."
To learn more or make an appointment, call 347-507-3695.
Ready to get started? Check out Forks Meal Planner, FOK's easy weekly meal-planning tool to keep you on a healthy plant-based path.