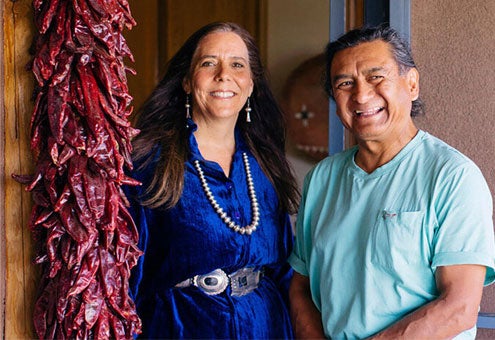 Lois Ellen Frank, PhD, and Walter Whitewater
A Santa Fe–based Native American chef, Native American foods historian, culinary anthropologist, author, and photographer, Lois Ellen Frank has spent over 20 years documenting the foods and life ways of Native American communities throughout the Southwest. She is the author of Seed to Plate, Soil to Sky: Modern Plant-Based Recipes Using Native American Ingredients and the James Beard Award-winning book Foods of the Southwest Indian Nations.
Chef Walter Whitewater was born in Pinon, Arizona, and is from the Diné (Navajo) Nation. He grew up in a traditional family and began cooking as a young boy after seeing people cooking at some of the traditional ceremonies his family attended. Whitewater served as culinary advisor for Seed to Plate, Soil to Sky and Foods of the Southwest Indian Nations.
Frank and Whitewater are the co-owners of Red Mesa Cuisine, a Santa Fe catering company that features Native American, local, and sustainably sourced foods for events with wild ingredients that are hand gathered from Native American nations all over the United States.