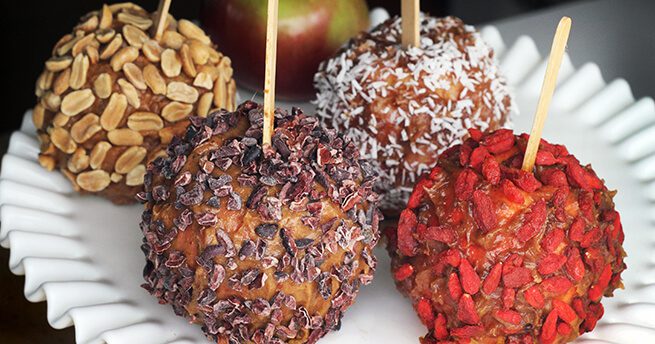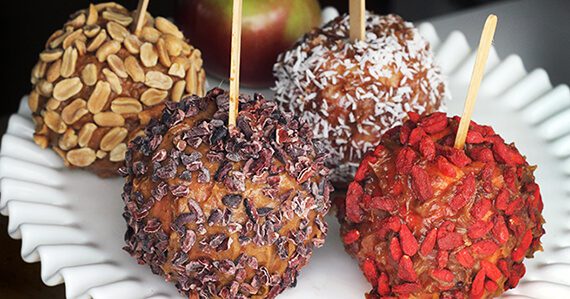 When I gave up processed and refined sweeteners I never thought I would be able to enjoy a caramel apple again, until I created this recipe. Even without caramel, they look just like the real thing and people of all ages love them!

Caramel Apples
From UNPROCESSED
Makes 4 caramel apples
Ingredients: 
• Date Paste (recipe follows)
• 4 Apples
• 4 Sticks
Instructions: 
Make Date Paste (recipe follows)
Place apple upside down on a flat surface and push stick into the center. Roll the apple in date paste, using your hands, if necessary, to get it to stick over the entire surface of the apple. Roll in your favorite topping such as nuts, cacao nibs, unsweetened defatted coconut or Goji berries or a combination. Chill well before serving.
Date Paste
Make sure you always have some on hand to create a healthy dessert in no time.
Ingredients: 
• One pound of pitted dates
• One cup of liquid (water, unsweetened non-dairy milk, unsweetened juice)
Instructions:
Soak dates in liquid overnight or for several hours until much of the liquid is absorbed. In food processor fitted with the "S" blade, process dates and liquid until completely smooth. Store date paste in the refrigerator.
Chef's Note: Sticks for Caramel Apples can be found at craft stores or cake decorating stores. If you have trouble finding them, slice apple into wedges and make individual dipped apple slices.