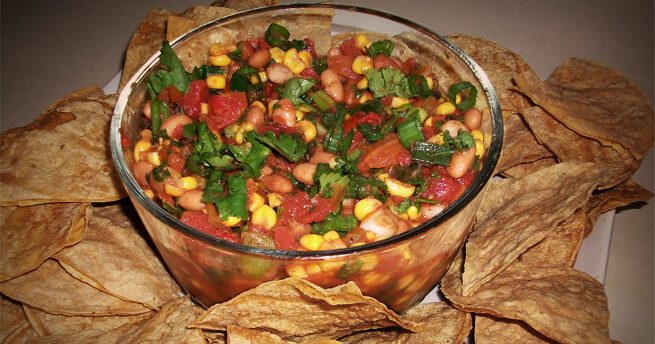 This is my all-time favorite salsa. It has a smokey flavor and is great as a dip – you can also use it as tasty filling for a burrito or enchilada.
Chipotle Corn Salsa
Ingredients:
•    1 – one pound bag of frozen corn, defrosted
•    2 – 15 ounce cans of Pinto beans, drained and rinsed
•    One pound of Roma Tomatoes (approximately 4), seeded and diced
•    One bunch of Cilantro, chopped
•    4 scallions (or more, to taste) finely chopped
•    1 tbsp Chipotle Paste (or ¼ teaspoon chipotle powder) or more to taste
•    Juice and zest from 4 limes
Instructions:
Mix all ingredients together in a large bowl.  Flavors will improve on sitting.  Stir well before serving.
Baked Tortilla Chips
Make sure you get tortillas that are made only of corn or just corn and lime.
Ingredients:
• Corn tortillas
Instructions:
Preheat oven to 375F.
Cut each tortilla into fourths.
Place on a cookie sheet covered with a Silpat* and lightly spray each chip with water.
Sprinkle with herbs or salt-free seasonings, if desired.
Bake for 10 minutes.
Turn chips over and lightly spray again with water.
Bake another 8-10 minutes until crisp.
Chef's Note: You can also do this with whole-wheat pita, but it would not be gluten-free.
* A Silpat is a non-stick Silicone Baking mat. Nothing sticks to it and you can reuse. If you don't have one you can use parchment paper.