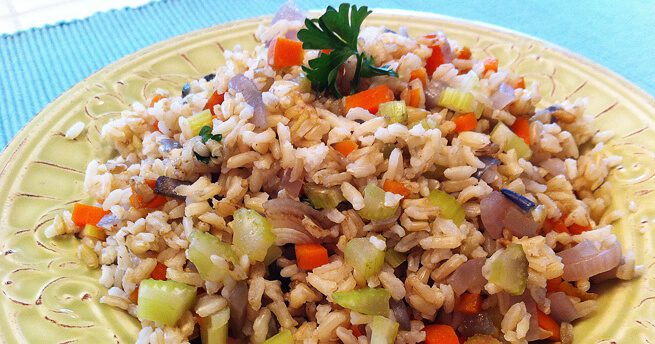 My friend Jake was unable to obtain a standard life insurance policy because he was overweight, and at a high risk for a heart attack, diabetes and other health problems. He read my book Life in Balance Cookbook, lost over 100 pounds, and became a competitive triathlete! One of Jake's favorite recipe is Tom's "Fried" Rice, created by my husband Tom. Try it out for you yourself and see why it has contributed to Jake's success.
Instructions: 
In a cast iron skillet over a medium to high flame, add half the water, carrot and onion.
Sprinkle with sea salt and sauté 2-3 minutes.
Add sprouted aduki beans.
Spoon leftover cooked rice evenly over vegetable and bean mixture to cover, and sprinkle with the soy sauce and water.
Cover with a lid, turn flame to low and cook for 10 minutes.
When done, gently stir the vegetables and beans on the bottom into the rice. Top with garnished parsley or green onions.