Fettuccine with Grilled Asparagus, Peas, and Lemon
INGREDIENTS:
6-8 stalks asparagus

2 cloves garlic, minced

Juice of 1 lemon, about 2 tablespoons

Pinch of coarse sea salt

Water

6 ounces fettuccine

2 tablespoons minced parsley

1 cup peas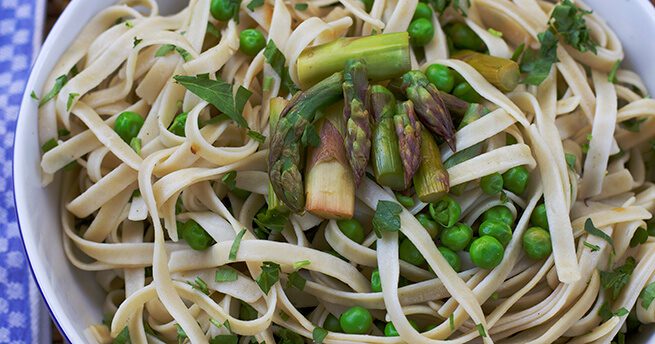 Asparagus and peas, with the lightness of lemons and parsley, create a beautiful dish, perfect for lunch and dinner.
From 21-Day Weight Loss Kickstart
Instructions

Toss the asparagus in the garlic, lemon juice, and salt.
Grill the asparagus until it just starts to develop a few blackened spots. The asparagus should still have some crispness to it.
Cut the asparagus into 2-inch pieces.
Bring the water to a boil.
Boil the pasta until it is al dente.
Toss the cooked pasta with the asparagus, parsley, and peas.
Photo by Eco-Vegan Gal
Find this recipe and more 30-minute meals in the Forks Over Knives Recipe App.
Don't want to cook? Try our Forks Fresh Meals delivery service and receive 5, 10, or 15 healthy and delightful meals at your doorstep every week.
Jason Wyrick is the executive chef and publisher of The Vegan Taste. In 2001, Chef Jason reversed his diabetes by switching to a low-fat vegan diet. He is a New York Times best-selling author, has catered for companies such as Google, the Frank Lloyd Wright Foundation, and Farm Sanctuary, and has been a guest instructor in the Le Cordon Bleu program at Scottsdale Culinary Institute.
View all contributions by Jason Wyrick